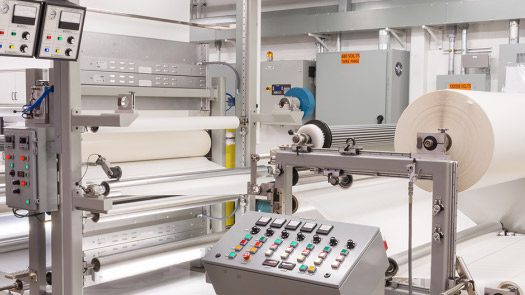 DermaMed Coatings Company LLC has extensive experience in developing adhesive coating solutions and has the manufacturing capabilities to fulfill a wide range of needs across the medical and pharmaceutical fields.
While we have several products available to meet your needs, what sets DermaMed apart from other manufacturers is our ability to to employ our on-site lab and chemists to develop custom adhesives and custom coaters to fit the needs of your products.
We can then conduct trial testing to ensure it meets specifications and then offer small-scale runs and scale-up trials. And we offer trial times (at hourly rates) something very few adhesive coating facilities offer.
Our manufacturing capabilities include zone coating, toll coating, laminating and a wide array of other capabilities. We can also perform coating knife over roll and gravure (at 60 inches). We can develop custom adhesive solutions and adhesive coating techniques for a variety of films in medical and biocompatible adhesives.
And our coatings are well suite for ostomy care, neonatal, and geriatric skin care.
Whatever your specific needs may be, the DermaMed team can help develop a custom coating solution for you.
So contact our team today to start working on customized solutions for your coating needs.